Now that the controversy and indignation over Kanye West's early May comment has been forgotten and replaced by a dozen other moral outrages, each evidently so important for fine-tuning the ethics of a society that doesn't actually change, I want to return to his assertion that four hundred years of slavery was "a choice". I would argue—not out of any desire to play a role in a spectacle of controversy, one that has long since expired, but out of genuine conviction—that Kanye was right about one thing, and wrong about another.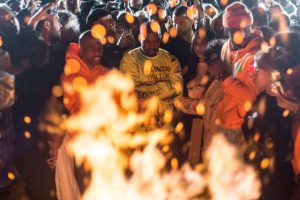 To be clear, I think Kanye is one part hack and one part provocateur, but my opinion holds very little water. Exactly zero of my friends habitually come to me for my knowledge on pop culture or rap. So let's move on to what was false about his statement. In a consumerist, comfort-driven society, the word "choice" suggests an effortless and even facile decision. Such a word minimizes the brutality of slavery and invisibilizes the resistance. In fact, Native and African peoples engaged in constant, multiform, heroic, and often bloody resistance against the regime of slavery in North America for the entirety of its 400 year history. Progressive whites and institutions like the New York Times that rushed to condemn Kanye and win cookies have a consistent position of recognizing the brutality of the regime of chattel slavery, but only as a way to overshadow subsequent forms of racism and exploitation, from which they directly or indirectly benefit. Nor have they done very much to rescue the history of resistance against slavery, given that such resistance breaks the narrative monopoly of nonviolence that has been mandatory since the Civil Rights Era, and de-centers the benevolent State as guarantor of rights and freedom. It's also problematic that Africans in America continued their resistance into Reconstruction, often rejecting the northern wage regime in the same terms they had rejected chattel slavery.
And as a lesser historical quibble, it's worth pointing out that Kanye's emphasis on the 400 years that slavery continued, as though the longevity of an oppressive system were evidence of its popularity, is misplaced. Oppressive systems generate conflicts that undermine them, and some seek to forestall this mounting pressure through systems of reward, amelioration, and recuperation, while others hold no illusions and try to stay together through uninhibited use of repression and terrorism. The Roman slave system, based on aggressive conquest, torture, mass terrorism, and sometimes genocide, lasted for considerably longer than 400 years.
In the end, though, these are questions of insinuation and misplaced argumentation. Kanye's central affirmation, that slavery is a choice, is one hundred percent correct. Slavery is always a choice. The fact that plantation owners and the rest of the ruling class exercised a whole range of terroristic methods to force the enslaved into compliance does not mean that they determined the entire range of choices that enslaved people had, and this is an important distinction.
We can link this distinction to the crucial imperative of the Existentialists, that all life is and must be a choice, that we must consider suicide as our right and our constant guarantor of emancipation, and if we choose not to use it, then we should embrace life as a positive choice, rather than just accept it as the absence of other choices. Tangential to this philosophical reframing is the historical fact that suicide has often been a form of resistance to totalitarian regimes: the masters need us alive, or they need to use our deaths to keep the living in line. If we reappropriate death, we rob them of one of their most vicious weapons.
We can also consider the dialectic of the Master and Slave, elaborated by Hegel and expanded upon by Stirner and Nietzsche. These philosophers were not talking about choice as an easy affair, like taking one product or another off the shelf of a supermarket. Supermarkets didn't exist back then, no, not even internet shopping existed back then. But they did correctly recognize that the master and the slave are interlocking roles; they require and they reproduce one another. In the end, tyranny only works if people submit to it, and all submission manifests as a choice. Perhaps this is the ugliest aspect of the torture and terrorism that is used to achieve domination. But it may also be the key to liberation.
Recognizing the presence of our own will on the other side of the table from us, amongst our enemies, the moment we sign our unconditional surrender, is paramount to the question of resistance. Only by liberating our will, by wresting back our own volition from the system that would dominate us—only, in a word, by choosing—can we ever speak of freedom. Thus, it is vital to anyone interested in freedom to recognize that, yes, domination is a choice.
Unknown reader, I despise bad faith writings, but I must admit that I have tendered you a trap. Sartre, Hegel, Nietzsche, is this dude serious? Is anyone still that clueless in the 21st century? I know that some of you are thinking, these are all white men, they have nothing valid to say about slavery. This Alex Gorrion is an out of touch racist for even citing them in such a context. Others were going a step further, wondering if I, too, am a white man. Perhaps you recognized that "Gorrión" is a word in Spanish, but not a common last name. You may even be subconsciously frustrated that Alex is an androgynous name. Curse such ambiguity! If only everyone were clearly labeled. Meanwhile, a couple, the truly stupid among you, are thinking, Wasn't Nietzsche a fascist? I'm afraid I don't have Alexander Reid Ross' number, but surely there's a hotline somewhere you can call to report me.
But oops, look at me. I got my notes all out of order. I meant to start with this quote:
"Find out just what any people will quietly submit to and you have the exact measure of the injustice and wrong which will be imposed on them."
Yup. That quote you've almost certainly sent out in an email or posted on your Facebook wall at some point in your life. By Frederick Douglass. Philosopher, abolitionist, freedom fighter. Hero, who lived under, escaped from, and spent the rest of his life fighting against, slavery. Saying, quite eloquently, that we either choose to submit to slavery or we choose to resist. In fact, he goes significantly further than Kanye, saying that the degree to which we will be oppressed is an inverse function of the degree to which we choose to resist.
Preceding the Existentialists by a good century, he also said, commenting on resistance:
Hence, my friends, every mother who, like Margaret Garner, plunges a knife into the bosom of her infant to save it from the hell of our Christian slavery, should be held and honored as a benefactress. Every fugitive from slavery who, like the noble William Thomas at Wilkes Barre, prefers to perish in a river made red by his own blood to submission to the hell hounds who were hunting and shooting him should be esteemed as a glorious martyr, worthy to be held in grateful memory by our people. The fugitive Horace, at Mechanicsburgh, Ohio, the other day, who taught the slave catchers from Kentucky that it was safer to arrest white men than to arrest him, did a most excellent service to our cause. Parker and his noble band of fifteen at Christiana, who defended themselves from the kidnappers with prayers and pistols, are entitled to the honor of making the first successful resistance to the Fugitive Slave Bill. But for that resistance, and the rescue of Jerry and Shadrack, the man hunters would have hunted our hills and valleys here with the same freedom with which they now hunt their own dismal swamps.
There was an important lesson in the conduct of that noble Krooman in New York the other day, who, supposing that the American Christians were about to enslave him, betook himself to the masthead and with knife in hand said he would cut his throat before he would be made a slave. Joseph Cinque, on the deck of the Amistad, did that which should make his name dear to us. He bore nature's burning protest against slavery.
(Also, notice how he trolls his New England audience, repeatedly linking Christianity with slavery.)
Here we can learn several things. The most paltry—though the most relevant to the absurd controversies that fill our shallow lives in this most pitiful of decades—is that identity is not existence. A white woman can never know the experiences of black slavery, but only because one person can never know the experiences of another. There are certainly clusters of commonality and long flattened plains of difference, but there are no essential and impassable barriers between tidily defined groups of people. Someone's identity category does not mean that they have nothing valid to say on topics that are potentially relevant to everyone. The fact that we were taught for centuries that only property-owning white men had anything important to say does not mean the opposite is true (though in the current iteration, the class marker—the only one that actually refers to someone's choices in life—is notably absent).
It also does not mean that we should expect Kanye to have anything worthwhile to say about slavery, although maybe he can surprise us. Maybe, just maybe, someone's experiences and choices in life are more important than the boxes we put them in, whether these are the evil and antiquated Boxes of Oppression, or the new and improved, sweeter-smelling Boxes of Intersectionality and Movement-Building. Power is everywhere, and privilege aside, no one is free unless they choose to be free.
This was a recurring theme of Frederick Douglass' 1857 speech in Canandaigua, quoted above. The principal target of his speech, alongside the slave hunters, were white progressives. These white progressives wanted abolition without black people taking a leading role in the movement. And they wanted emancipation without insurrection. In fact, such "Garrisonians" believed that "the insurrectionary movements of the slaves were […] prejudicial to their cause." It was in response to such people, such hypocritical allies, that Douglass found it so important to make the argument that submission to the yoke was a choice, and that refusal and bloody resistance were also choices – choices to be celebrated. Liberation wouldn't come from enlightened progressives, and it wouldn't be doled out by the state. "If there is no struggle there is no progress," he said.
This may come as a shock to the Facebook generation, but struggle does not mean getting offended by stupid comments that breach the etiquette of polite society. Struggle means taking risks and staking out unpopular positions that allow us to win back ground from the structures of centralized power.
The difference between a victim and a survivor is agency. The difference between blame and responsibility is that one is useful for explaining away why society is the way it is, and the other is useful for changing it. We are always responsible for our lives and how we respond to the shitty things society does to us.
More than 150 years have passed, but Douglass' words are still relevant today, when the rebellions of Oakland, Ferguson, and Baltimore have been drowned out in the NGO and social media framework of Black Lives Matter (a useful sentiment with a mediatic bent), when the Democratic Party is mobilizing people to put all their struggles aside and pray for another Obama.
Nowadays, explicit racism is already non-hegemonic. Roseanne will get canceled when the star makes an openly racist comment, and even drug companies will chime in as defenders of anti-racist sensibilities. Meanwhile, COPS, which has done far more to advance the cause of white supremacy than Roseanne ever has, has just entered its 31st season. All they have to do to stay on air is to edit out any time one of the officers on camera uses the N word. Back in the '90s, perhaps not being a racist in the public eye just meant having a good lawyer. In the internet age, it means having a good editor. In any case, Roseanne explicitly voiced a racist stereotype that is more subtly and constantly reproduced by COPS, a stereotype that is directly related to police, judges, and juries treating black people more violently, whether shooting them down or locking them up for life. And it is a stereotype that works best when it is subliminal.
Ignoring the heroic resistance and all the brutality that the government and the plantation system used to impose slavery is extremely hurtful. But there are those who profited and continue to profit off the ways that white supremacy and obligatory labor were adapted after the Civil War, and these people and institutions were there in sheep's clothing together with all the rest, condemning Kanye's reckless comment. Surely, what they found most controversial about it is that it suggests that we are ultimately responsible for achieving our freedom.